First CSEE Journal Work Meeting Held in Beijing
2017-10-12
On Apr. 20, 2016, the first work meeting of CSEE Journals was held in Beijing. Zheng Baosen, President of CSEE, Liu Xingping, Deputy Director of Department of Academic and Societies Affairs of CAST, and Zhou Xiaoxin, Member of Chinese Academy of Sciences and Chief Editor of CSEE JPES, addressed the Meeting. Xie Mingliang, Vice President & Secretary-general of CSEE, delivered the journal work report. Chen Xiaoliang, Deputy Secretary-general of CSEE, moderated the Meeting.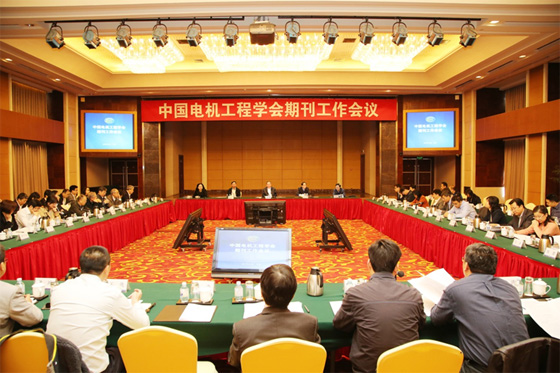 Discussions focus on the theme of "comprehensively developing outstanding journals"
In his speech, Zheng Baosen stressed journal editing and publishing as a key strategy. CSEE should combine its forces to boost the journals on the basis of scientific planning and appropriate ideology, keep a weather eye on industrial concerns, key scientific programs and major research teams, and in turn facilitate industrial development, talents and innovation. He pointed out that the first CSEE Journal Work Meeting aims to further enhance the quality of the journals, keep abreast of global trends of journals, establish CSEE as a China-leading, world-renowned scientific association, and contribute to technical innovation and progress of domestic power industry.

Liu Xingping fully recognized CSEE journals' achievements and highlighted the weight given by the national government to scientific journals. Focused on "strategies, evaluation, teams and technology", CSEE should look far and keep up to date with the most recent global trends of journals. From 2016 to 2020, CAST will issue more policies in favor of long-term development of journals.

With the theme of "Keeping abreast of the times and developing new modes to build outstanding teams for power industry journal operation", Xie Mingliang's report reviewed CSEE journals' operation, analyzed the current situation and tasks, and issued general guidelines for the next move. Centered round four keywords - teams, quality, international and digital, the report itemized the following six missions of journals: probe into and improve the academic evaluation system; strengthen CSEE's publishing teams; strive to improve the quality of journals; promote the internationalization of journals; present journals in digital form; and improve operational efficiency.

The Meeting featured six special reports. The Proceedings of CSEE, Beijing Guoyu Publishing Co., Ltd., JPES, and Electric Power shared their ideas on "improving the quality of journals", "experience and achievements of reshaping two journals - Rural Electrification and Rural Power Management", "ideas and practices of enhancing the international influence of journals", and "topic selection and paper solicitation by journals" respectively. Yang Xu, Account Manager at IP&S China at Thomson Reuters, gave a presentation on "Web of Science and Journal Selection". Ma Zheng, an associate researcher at the Institute of Scientific and Technical Information of China, talked about "evaluating and improving the quality of scientific journals". The latter two reports dwelled on the evaluation criteria and processes of SCI and core journals.

During the discussions, Zhou Xiaoxin opened up about the orientation, international visibility and future development of JPES. Wang Jiye, Deputy Director of China Electric Power Research Institute, vowed to put in more resources in support of the Proceedings of CSEE and JPES. Deputy Directors of CSEE Editorial Board, experts and editors compared notes on "improving the quality of scientific journals", "attracting outstanding contributions", "developing paper evaluation systems for scientific journals", and "promoting digital journals".

In her concluding remarks, Chen Xiaoliang issued a six-point code on journals development: first, carefully study the documents and respond to the call of the meeting; second, amend the Five-Year Plan for Publishing CSEE's Journals; third, comprehensively kick off research on the paper evaluation system for power technology journals; fourth, prepare for the launch of new journals; fifth, build and operate the CSEE Digital Library and WeChat group of CSEE journals; and sixth, plan for the compilation of CSEE's book series and other publications.

Over 60 guests attended the Meeting, including deputy directors and members of CSEE Editorial Board; Chief Editor, associate editors and members of journals sponsored by CSEE and/or its Expert Panel; and heads of relevant departments of CSEE.